It is not easy to sync the own files/mails/contacts/calendars/etc. in order to keep them private (not via a public cloud) and to create regular backups. Furthermore, every solution must be easy to use (at least for my wife ;)) and reliable.
Following is my approach for keeping my files in sync and private. What are yours?
This is my current setup for me and my family: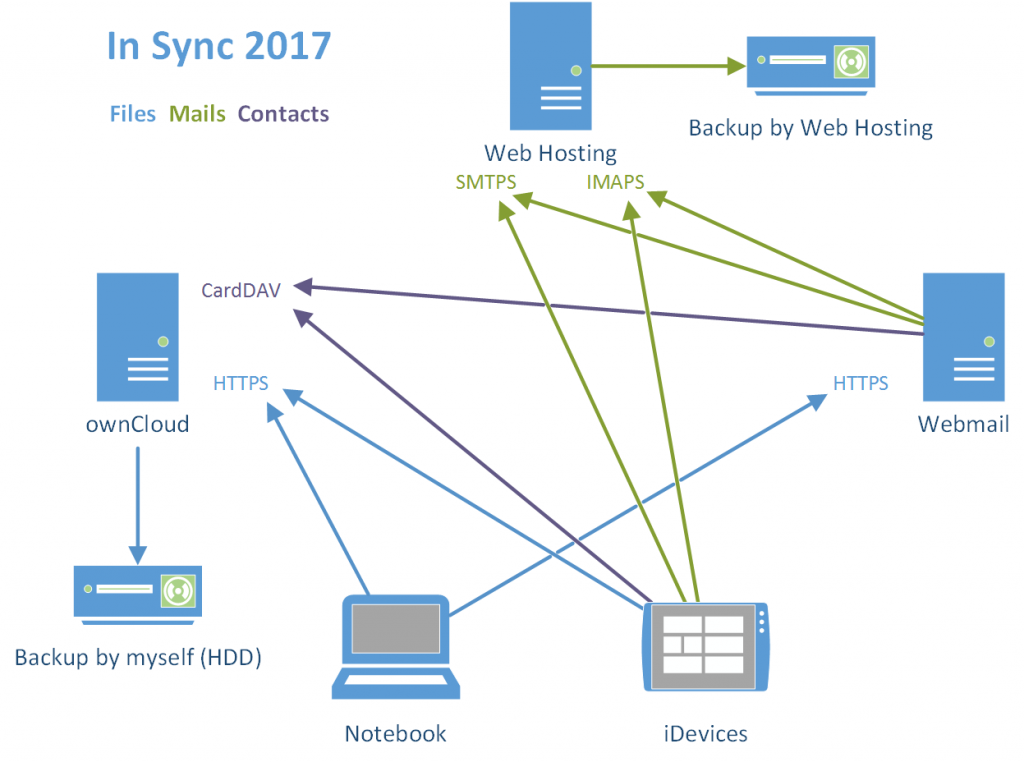 It achieves the following goals, mainly to keep my data private:
Sync of all private files to the ownCloud (without Dropbox)
Sync of all private contacts to the ownCloud (without Apple/Google)
Mails accessible via online webmail (instead of offline Outlook or Thunderbird)
Backups of all data, either by me or by my web hosting service
Confidentiality via encryption (HTTPS, SMTPS, IMAPS)
The following goals are still unsolved for me:
Calendar: Hopefully the ownCloud app will be better one day.
Notes: I currently sync my notes to the Exchange server of my business phone. This works for the moment but is not ideal. Maybe I could use text-files via ownCloud instead? I don't want to install another software but want to use the built-in notes app.
Firefox Bookmarks: Currently I am using Firefox Sync (which works quite good). However, it is kind of a public cloud.
What are your setups? Please comment for every better solution or whatever.
Featured image: "Sync" by Dave Wild is licensed under CC BY-NC 2.0.